Hospitality and Tradition
Val di Sole is a paradise for mountain lovers and long walks. Surrounded by breathtaking scenery it is ideal for an active sporting holiday.
Leaving directly from the hotel you will find numerous well sign-posted walks across the local countryside, or, for simple family strolls along the forest paths finally leading to lakes and ancient wooded areas. If you prefer to cycle there are also mountain bike routes from the hotel.
In winter, snow-covered landscapes await you, wonderful slopes for skiing, blue skies, sunny days, perfectly prepared ski slopes, excursions in the natural landscape with snowshoes, excursions with mountaineering skis to snow-capped peaks.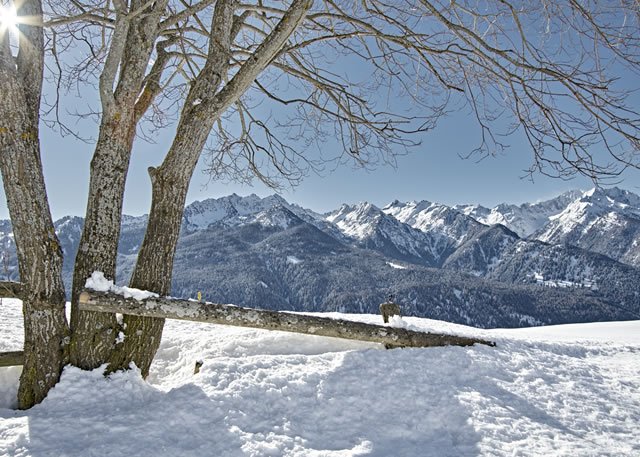 There is no chance of feeling bored in Val di Sole
Active holidays at Baita Velon
A colourful Summer awaits you in Val di Sole, blue skies, green fields, and flowers everywhere.
Excursions and activities to suit every taste and ability, Touch the sky mountain climbing, follow the paths on foot of the brave soldiers who fought in the First World War (The White War), take a mountain bike ride, or go for an adrenalin filled experience rafting on the River Noce.
Impossible to list all that is available in Val di Sole during the summer. Some of the most popular are, Climbing, trekking, mountain walks, nordic walking, gliding, paragliding, rafting, horse riding, fishing and mushroom picking.
If you should like to fish in the lakes and rivers in Trentino there are many to choose from. A fishing license is easily available from us and in the water just outside of the hotel you will find Marbled Trout, and Salmon trout.
Here Winter boasts its most exciting aspect
Holidays in the snow
Our Hotel is situated just 10 minutes from Passo Tonale where you will find the most up to date ski lifts and perfect skiing conditions for downhill, freeride and snowboarding.
15 minutes from our hotel is Marilleva part of the Ski area Campiglio Dolomiti di Brenta, the largest ski area in Trentino with over 150km of pistes and 60 ski lifts which connect the Val di Sole, Val Rendena and the ski areas: Folgarida Marilleva, Madonna di Campiglio and Pinzolo.
!5 minutes away is Peio situated in the Stelvio National Park with a ski areas at an altitude of 1400m to 3000m
For non-skiers there are many other offers available such as trekking, walking on snow shoes, ice skating and sleddog.